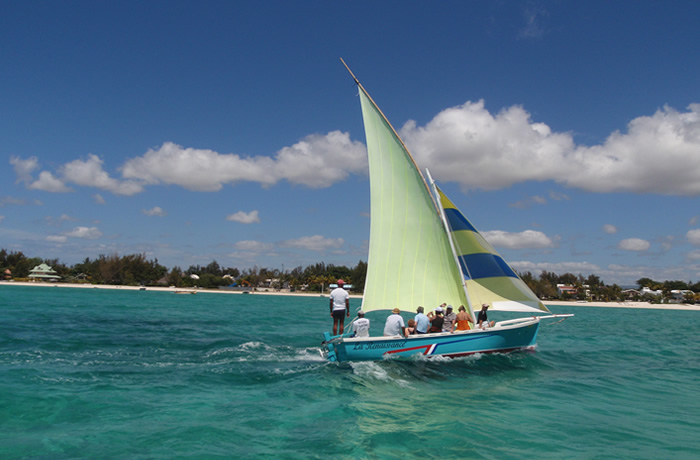 Discover typical sailing with a professional.

This sailing boat trip is all about having a wonderful time with your families, partners and friends while relaxing, chilling and just letting you carried away by the gentle breeze.

It is a unique and a beautiful experience to discover the lagoon in an authentic and typical way. On the sailing boat you will encounter a warm atmosphere with a personalised and exclusive service and you sail in a magnificent lagoon where you get to discover the small islands, snorkel in crystal clear water and you can even enjoy from Mauritian menu for those who request lunch.
Option A
Pick up 10:00a.m- 14:00 p.m
Enjoy from a superb journey in the magnificent lagoon of Mahebourg, snorkel in our turquoise water and sunbath and relax on boat.
Snacks and drinks are included on boat.
Optional Typical Mauritian lunch with a supplement.
Option B
Afternoon 'Escapade' Pick up 03:00p.m – 06:00p.m
Sailing in the lagoon of Pointe D'Esny, stop near Ile aux Aigrettes for a small swim with apero and snacks on boat.


Testimonial:
We came to Mauritius to experience typical and authentic trips where you get connected with the natural beauties of the island without anything commercial around and the excursion on the sailing boat was the best. We were out with Jean-Claude and we have an awesome day. He is a professional and you feel the friendly and warm atmosphere on boat as soon as you get in. It is a typical pirogue with a colourful sails that represents well Mauritius. We enjoyed from the beginning every bits of it and to let the wind guide you without any stress and just relaxing was what we needed. It is a lifetime experience which we recommend. We discovered the beautiful lagoon of Mahebourg with the small islands, we snorkel in wonderful places and we had beautiful Mauritian lunch and all these were just AMAZING.
- Anna & Christopher [New York]